Lifestyle bicycle accessories for function on the bike and style off the bike
The location of 174HUDSON is the inspiration behind the accessory line that bears its namesake. TriBeCa is known around the world as a melting pot of innovation, design, and business. 174HUDSON products are designed for active cycling lifestyle, with a contemporary design backed by proven functionality.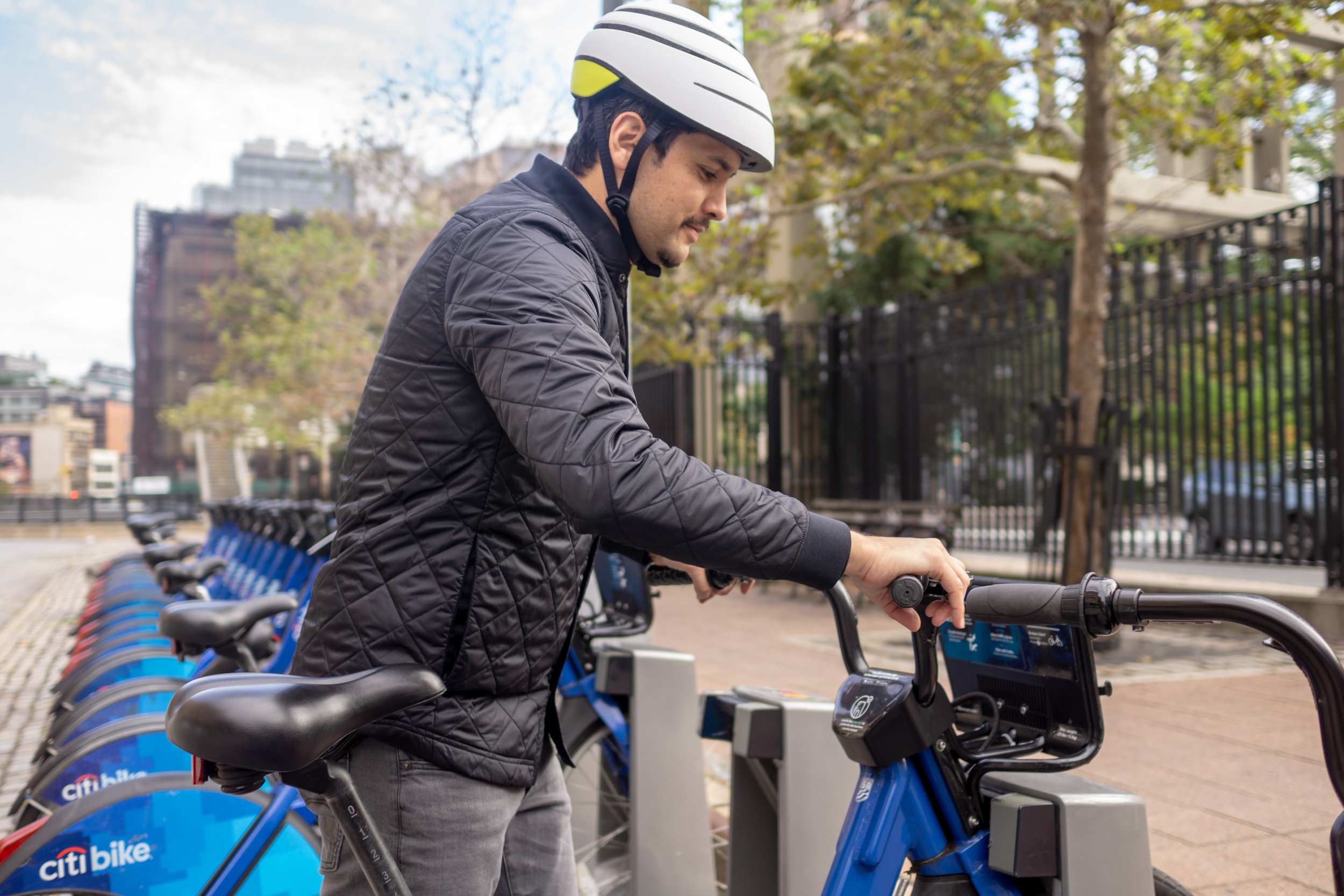 THE STACK PACKABLE HELMET
The Stack's innovative design offers unrivaled space saving and modern styling, and has a double safety certificate in the US and EU. Weighing only 330 grams, The Stack features hidden air vents for extra breathability, a dependable locking mechanism when fully expanded, and an adjustable elastic strap.
Reduces size by almost 50%

Weighs only 330g

Comfort Adjustable Elastic Strap

Ventilated with Hidden Airflow Openings

CSPC Certified in US & EN1078 Certified in the EU

Designed in collaboration with CLOSCA, who is known for their innovative design that appreciates detail and changes the lives of their customers

Size reduction percentage is based on the medium sized helmet that measures 74mm collapsed and 140mm fully expanded.
174 Hudson products are available for sale through select retailers. For wholesale information, contact 174 HUDSON AT info@174hudson.com.
@174HUDSON
Our space at 174HUDSON is in the heart of TriBeCa. From our perspective, we see the lives of a wide range of people that inspires what we design and how we design. We have a 9000 s/f showroom and shared workspace that sits atop our 174HUDSON workshop. With tools, 3D printers, and a boundless imagination, we can quickly design and develop products for testing. Visits are available by appointment only.
At 174HUDSON we are open for collaborations. If you have an idea that you'd like to work together on, reach out. We love putting some energy behind something new.
We also host events and are available for use as an event space in special cases. Recent events have included the travel and lifestyle media event for Nantucket Island Resorts, the Gear Patrol Magazine launch, Priority Bicycles Summer showcase, and Kustomer Apps symposium on technology approaches to customer service.
The space features an open entry way, high lofted ceilings, exposed brick with carpeted and wood flooring
THE CONVERTIBLE PANNIER BACKPACK
This bag is designed for rear rack use only. To avoid heel clipping, position your bag as far back as possible.
Avoid heavy objects in your bag, they can throw off the weight of your bag and the bike.
Use a double kickstand if you plan to park the bicycle with the bag attached.
Ensure that your rack support legs adequately cover the back of the bag. Make certain that the rear of the bag will not flex and come in contact with the wheel, spokes, or drivetrain components..
Make certain that all straps are secure when on the bicycle. Ensure they will not come in contact with the wheel, spokes, or drivetrain components.
Ride safe, responsibly, and often.